Banking Credit Courses Bundle
Level 1 Bundle of 13 Courses & 12 eBooks for every Banking Executives
| | |
| --- | --- |
| star star star star star | 5.0 (1 ratings) |
layers 25 Courses
Language: English
Validity Period: Lifetime
₹25987
89% OFF
₹2599 including 18% GST
500 Credit Points as Cashback
Are you a bank executive working in credit profile or loans & advances?
Are you a finance executive or finance professional interested in learning how bankers analyse business and take lending decisions?
Then this course is for you "Banking Credit Courses Bundle"
This is a package of 13 banking credit-oriented courses and 12 e-books worth Rs.25,987/-but you can enroll for just Rs.2599/-
Courses & eBooks included in the bundle:
1) Financial Analysis - Must Skill for Every Banking Executive
2) Banking Credit Analysis Process (for Bankers)
3) How to Read Balance Sheet
4) How to carry out Financial Analysis as a Banker
5) How to prepare CMA Report for Bank Loans?
6) How to carry out Term Loan Appraisal & Assessment as Banker
7) Learn Banking Credit Analysis through Case Studies
8) How to prepare Cash Budget for Bank Loans?
9) Collateral Securities A Comprehensive Study
10) How to Read CIBIL Report
11) How to carry out Credit Risk Rating for Non-Trading Entities
12) Letter of Credit L1: Basic Concepts & Fundamentals
13) How to Read Audit Report
E-Books:
14) E- BOOK on Current Ratio
15) E- BOOK on Debt Equity Ratio
16) E-BOOK on Cash Flow Statement
17) E-BOOK on Capital Structuring
18) E-BOOK on Financial Break Even Point
19) E-BOOK on Capital Budgeting and Cash Flow
20) E-BOOK on Capital Budgeting and Payback and Time Value of Money (Part 1)
21) E-BOOK on Capital Budgeting and Payback and Time Value of Money (Part 2)
22) E-BOOK on Conversation about Leverage
23) E-BOOK on Financial Ratio Analysis
24) E-Book on Debt Service Coverage Ratio (DSCR)
25) E-Book on Inventory Turnover Ratio
What makes our courses special?
🔥It's all pre-recorded classes.
🔥You get Lifetime Access.
🔥You can access any time.
🔥You can access any number of times.
🔥You can also download courses in your mobile through our learning app and access later without internet
🔥You get certificate of completion upon 100% completion of course
🔥Lowest & Affordable price in the market
🔥Lifetime Q&A support through telegram group
Know Your Instructor:
CA N Raja, B.Com., PGDBA, FCA
- Chartered Accountant by Qualification
- An ex-Banker
- Teacher by passion for CA, CMA and Finance Students
- Trainer for Bank Executives on Credit & Financial Analysis
- Published 100+ Online Courses
- 2,00,000+ Students Worldwide
- 1,00,000+ YouTube Subscribers
- Featured in New Indian Express
- Life Long Learner
What students say about our courses:
Umesh Joshi:
"I am a proud student of Ca Raja Sir for the last 6 years and a banker since 2005. whenever , I have raised any doubt or clarrification on Credit topic with CARaja Sir,he has satisfied the query in the best way. I can vouch that as on date,Raja Sir is one of the best Banking faculties in India. His passion for teaching is clearly visible with more than 2 lacs students around the globe."
Prasad Patwardhan:
"I would say that, those Bankers who want to grow in their career should do this reasonable investment to learn in depth knowledge about credit analysis. Thanks to Raja sir for making such great digital creation for all of us with lifetime access to these courses."
Prema Sasikumar:
"All topics/courses are very comprehensive and very easy to understand. It covers all the necessary banking concepts thoroughly in a short time.. Many thanks for the quality of your efforts! and Thank you soo much for the opportunity and for being available, well organized, keen & fine at explaining and sharing your knowledge Sir..👍😊"
BISWADEEP ADITYA
"This course is very practical and uptill now I have learnt many things. Mr. Raja is very supportive and he is always approachable. He clarifies my each and every doubt over messages where he takes all the pain to write the solutions on a page and send me the pictures. I am happy that I have invested in the right platform and I would request everybody to start your learning journey with Mr. Raja. Happy learning 🙂"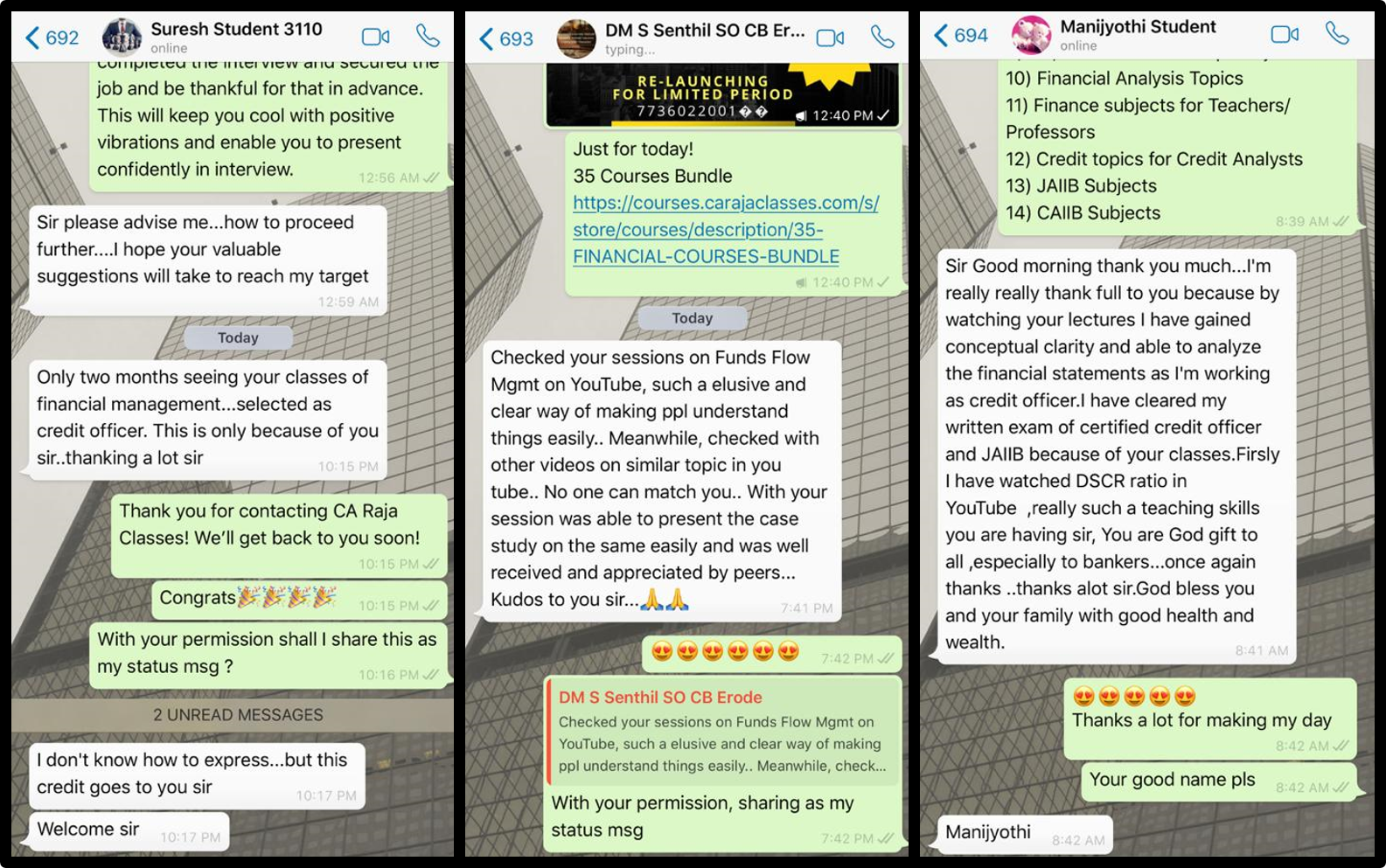 Reviews
5.0
star star star star star